We want to support as many games as possible. Unfortunately, not all games have data available through a publisher's API (Application Program Interface) or other public means.

In order to get data from as many games as possible we need something more: The App.

A locally run, low profile, application that offers a number of features to optimize the Omnislash experience. This app will support complete integration with our web platform and will support:
Access to multiplayer match results that are then uploaded to the Omnislash website in the Game Data section of the User Profile upon game completion.
Automatically save and archive replay files of your latest games and attach them to the Game Data section of the User Profile.
Automatic screenshots are taken at key moments in the game or match. These are added to the Game Data section of the User Profile and can be easily shared as content posts.

COMING SOON Manual screenshots can also be taken by users and then added to the Game Data section of the User Profile and can be easily shared as content posts. Games that have been added manually by the user support Moments that capture all media generated during the gaming session which are then added and organized via the User Profile.
Shows game open status to Friends (mutual followers) or the public depending on privacy settings. Users can even enable this feature for games that are not yet officially supported.
Show your Friends what you're doing in the game. (ex. In lobby, In menus, In Game, etc...)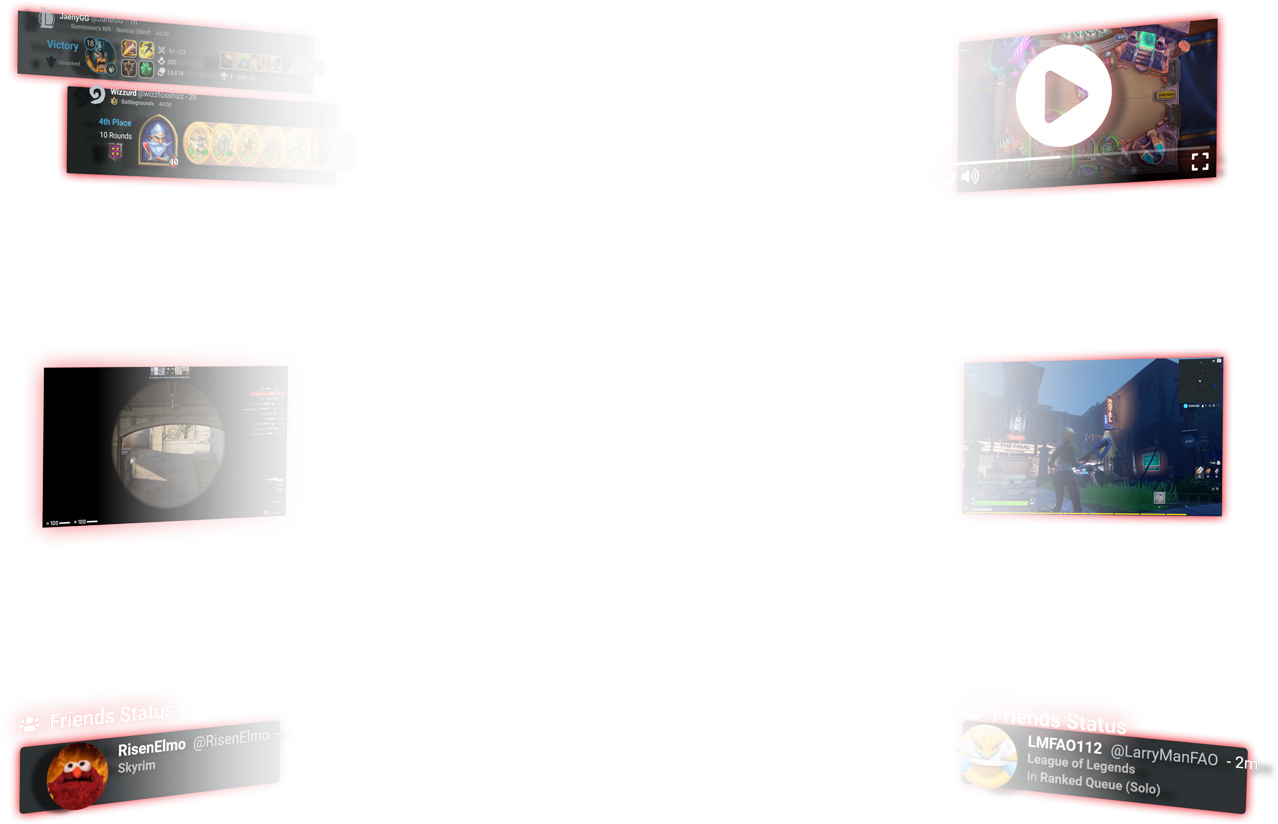 As a result we can't support every game on day 1 but we will support
the following and are constantly developing new games and features:
We want this application to be as minimalist as possible and to have a very low impact on your system. It will provide accurate gameplay data, bring media sharing capabilities and a set of features aimed at enriching your gameplay experience.

We know gamers love to play a wide variety of genres so we've built functionality into our application that supports games being added manually to provide features such as screenshots and basic player status. Now everyone can know what you're playing even if we don't officially support it (yet).

This is just the beginning: The Omnislash application will receive regular updates, improvements and features that make social media, content sharing and connections between players more meaningful, dynamic and (most importantly) FUN.